Oh, Snap! Did you know that Historic Downtown Sanford is chock-full of amazing spots for photographs? We hopped on two rental bikes from Sanford Tours & Experiences and hit the cobblestone to frame up the best photo opportunities throughout town.  If biking is not your thing, snag yourself a golf cart rental and hit the road for a fun day of photographing your way through the city.
We have compiled a list of our favorite snap-worthy spots in Sanford:
#1: City Hall's Breezeway Mural (300 N Park Avenue)
The breezeway located between the Commission Chamber and the administrative hallway at City Hall paints a new light on government buildings with an explosion of Florida-themed graphics. Complete with wave surfing citrus wedges and sunsets, this large mural is a perfect location to start your trek.
#2: Tuffy's Bottle Shop Lounge Beer Garden (200 S Myrtle Ave)
Just a quick pedal from City Hall is our second stop, Tuffy's beer garden. Grab yourself a cold one and head outside to find a photographer's playground. From the vintage camper to the barrel water fountain, snap to it! Drop some color in your background with photos in front of the various murals by local artists.
#3: Paulucci Building Warehouse Doors (201 W 1st Street)
Scoot on over a block to the corner of Oak and 2nd Street for our third photo spot. Located just behind the Paulucci office building is an old warehouse that begs to be photographed. The barn doors shedding multiple layers of old paint lend a unique, timeless backdrop for both professional and artistic headshots.
#4: Venue 1902 at Preservation Hall (301 W. 7th Street)
Enjoy a sweet ride through the residential district on your way to Venue 1902, the city's historic grammar school turned wedding venue. The large brick walls, arched entryways and an original bell tower overlooking one of Sanford's many parks make our fourth stop a must-see!
#5: 600th Block of Magnolia Avenue (located between 6th and 7th street)
Cruising right along, we are staying in the residential district for our fifth stop. The 600th block of Magnolia Avenue offers an idyllic backdrop of sweeping live oaks and cobblestone streets. You can almost smell the apple pie from the historic homes that line the block. This is the perfect opportunity to snap a photo of you and your trusty bicycle – just use caution!
#6: Wayne Densch Performing Arts Center's Alley & External Staircase (201 Magnolia Avenue)
Make your way back into Historic Downtown Sanford for our sixth stop – the Wayne Densch Performing Arts Center. Located between the annex building and historic theatre is one of our favorite alleyways in all of Sanford, complete with a stage entrance sign! On the outside of the building is one of the most photographed spots in all of Sanford, the external staircase. While this is private property, photos at the base of this staircase are picture perfect!
#7: Magnolia Square
Just a hop, skip or pedal one block north is the infamous Magnolia Square which proudly displays the city's historic clocktower and a beautiful fountain. This lands itself as the seventh stop on our photo adventure. During the holidays, the City of Sanford's Parks and Recreation team creates a seasonal photo opportunity at the base of the clocktower that will bring the kid out of everyone. While in the square, try on some German flair with the hilarious tracht folk photo cutout in front of Magnolia Square Market. Cheers!
#8: Hotchkiss Building Mural (211 E. 1st Street)
Just a couple of wheel turns through the alley is the newly painted Hotchkiss mural sponsored by Gallery on First. This large public art installation not only features an abundance of color for your photos but is an interactive experience for the viewer. While it may be number eight, we think it is great.
Hotchkiss Building Mural 211 E. 1st Street – The mural was under construction at the time of the photo.#9: Sanford Riverwalk and Marina (531 N Palmetto Avenue)
One of Sanford's attributes is the shoreline of Lake Monroe which is our ninth spot of the day. Sailboat masts and miles of shoreline create a gorgeous skyline for photos of any kind! A historic paddleboat, the Barbara Lee is often docked at the marina and offers a great backdrop for sea-faring adventurers. For land-dwellers, the Riverwalk's swings are a playful addition to any photo!
#10: Veteran's Park at Sunset (110 W. Seminole Boulevard)
Winding down for the day, we found ourselves glued to the horizon as the sun set on our photo adventure. There is nothing like a Sanford sunset and Veteran's Park offers the best viewpoint for the show. Our tenth and final photo opportunity fades quickly, so plan accordingly!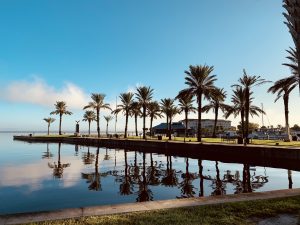 Veteran's Park Just Before Sun Set
We hope you enjoy this photo tour as much as we enjoyed creating it for you! Share your photos with us by tagging us and using #ExperienceSanfordFL. Add some fun to your day by booking individual bicycles, our retro tandem bike, or an EZ-Go golf cart by contacting us: 407-710-5816 or online at ExperienceSanfordFL.com!
Disclaimer: Sanford Tours & Experiences does not condone trespassing or the disrespect of private property. Please use caution and care when on this photograph tour. Only take photos and leave no trace behind. Thank you!
Check out the Sanford Visitor's Guide and download a Visitor's Map of Historic Downtown Sanford.